Wilco Airbus Software Module for FSCockpit FCU/EFIS

---

Seamless integration for high quality hardware devices
FSCockpit has released a new set of hardware devices for Airbus cockpit builders. These are the Flight Control Unit (FCU) that lets you control the autopilot functions and the EFIS Control panel that controls the EFIS displays (especially navigation mode and range, symbol displayed and altimeter settings). FSCockpit also provides the additional part that includes the master caution and master warning lights, the Chrono pushbutton and the side stick priority.

The software module presented here is intended to have the FSCockpit FCU and/or EFIS Control Panel working seamlessly with the Wilco Airbus Series Volume 1 and Volume 2. If you have one of these devices or both, this module will make them work with the Wilco Airbus Series Volume 1 & 2, with FS2004 or FSX. This software driver requires FSUIPC.



Installation and Usage
Installation is done with an automatic installer, it is pretty straightforward. When the product is installed, you should see a new icon on your desktop named "FSCockpit FCU Driver" and a new entry in your start menu.
In order to use this driver, just run it by double-clicking the icon or through the start menu. You can run it before or after starting FS, it has no importance. When started, you should see this window: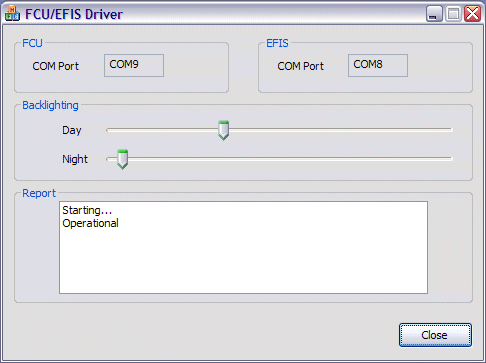 The COM ports used by your devices are automatically detected, you don't have to care about it.
In the Report section, you can see the following messages:
Starting

: the driver is starting

No FSUIPC Connection

: No FSUIPC connection has been detected (appears if FS is not started)

FSUIPC Connected

: The FSUIPC Connection is established, but a Wilco Airbus aircraft is not loaded in FS

Operational

: The FSUIPC connection is established and a Wilco Airbus aircraft is loaded, the driver is fully operational.
The 2 backlighting sliders let you adjust the device backlighting for day and night. You can adjust it as you wish, any change is saved to be reused later.
Important Note:
After this module has been installed, you may have a warning message when starting FSX because a DLL module named "FSUIPC_Exporter" is necessary for the driver. Just click "Execute" and "Yes" to designate it as a trusted software.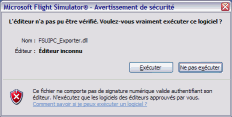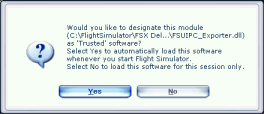 Download
Click below to download the product for FS2004 or FSX. Note that if you want to use this product with FS2004 and FSX, you need to run both installers.


At the end of the installation process, you will be asked to register the product key. If you have not purchased the product and you do not have a key, skip this step. You have a 10 minutes evaluation period after FS startup that lets you test the product and make sure it runs as expected on your system. You can register the key later.
Purchase
The price of this software is 44.90 Euros. Click the button below to pay securely using Paypal. When the payment is finalized, you will receive a key within 24 hours that lets you register the software and use it without any limit.



Note: This product requires FSUIPC.