EasyFMC Mobile
---
Cette page est également disponible en Français ICI.
This page is also available in French HERE.
EasyFMC in a Web Browser
EasyFMC Mobile is a simple and universal Flight Managament Computer. It offers exactly the same features as EasyFMC, described on the EasyFMC page and the EasyFMC documentation.

It requires no navigation database, it can be used with any aircraft and it is provided with 2 FMC look-and-feel: Airbus and Boeing.
EasyFMC Mobile is a specific version of EasyFMC that can run in any browser, including smartphone and tablet browsers. It does not require the basic version of EasyFMC or FSUIPC.
It is compatible with FSX, P3D and FS2004.
EasyFMC Mobile uses a web server that must run on the same machine as the simulator and the web browser that runs EasyFMC Mobile can run on any device: PC, Mac; iPad, iPhone, Android smartphone or tablet, anywhere...
Compatibility:
FSX: any edition (SP1, SP2, Accel, Gold, Steam Edition)
Prepar3D version 3 (please contact me here if you need a P3D v2 support)
FS2004 (version fs9.0 or 9.1)
Requirements:
How does it work?
EasyFMC Mobile uses the simulator (FSX/P3D/FS2004) internal navigation database so it needs to have a gauge running into the simulator to collect the navigation information and provide it to the web server. This gauge is called a Mobile Data Collector Gauge (or MDCG).
Here is a diagram showing how it works :
Don't worry if you don't understand all this, the installer will automatically install and set up all the necessary components for you. This information is provided for experts only.
Usage
The usage is very simple, it just requires to have the Mobile Data Collector Gauge installed in the panel of the aircraft you want to fly with EasyFMC Mobile. A "Panel Updater" application is provided in the package to automatically add this gauge for you.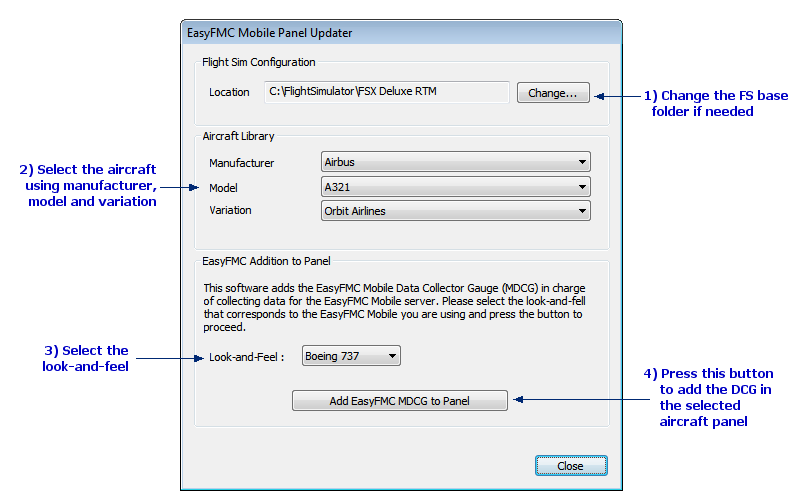 When this is done, you just have to start the EasyFMC Mobile Web Server and you are ready to go...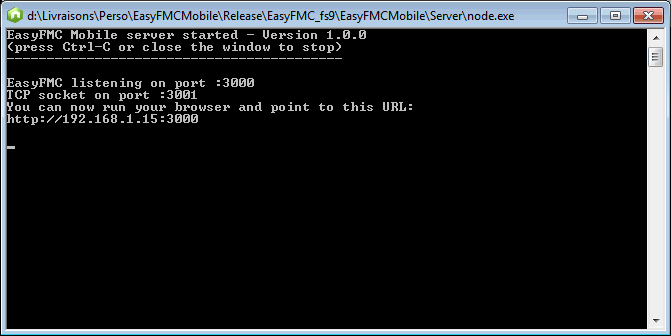 Any browser can be used to run EasyFMC with the Boeing or Airbus look-and-feel, as shown on the images below.
EasyFMC Mobile has been tested on the following browsers:
Google Chrome on Windows, Android smartphone and tablet
Safari on iPad and iPhone (iOS)
Mozilla Firefox on Windows
Microsoft Edge on Windows
| | | |
| --- | --- | --- |
| | | |
| EasyFMC Mobile welcome page on Chrome (PC) | Boeing CDU on Android smartphone | Airbus MCDU on iPad |
Download
EasyFMC Mobile comes with an automatic installer that installs all the necessary parts of the package:
the Web Server (based on Node.js) and the client parts
the Panel Updater utility, which automatically updates the panel file to integrate the Data Collector Gauge in the aircraft of your choice
comprehensive documentation
| | | | |
| --- | --- | --- | --- |
| FSX Package | FSX-SE Package | Prepar3D Package | FS2004 Package |
| | | | |
Try before you Buy
You can download and install EasyFMC Mobile for free. At the end of the installation process, the Panel Updater utility starts and asks for a registration key. Just press 'Cancel' to ignore this and you are free to use the product during a trial period of 10 minutes.
If you have any doubt about this product, please try it before you buy to make sure it works on your system. Please read the documentation carefully (very short and easy to read) to make sure you install and use it properly.
Purchase
The price of EasyFMC Mobile for any simulator (FSX, P3Dv3 or FS2004) is 22.90 Euros. Buying a single license allows you to use this product with any simulator, FSX, P3D or FS2004, with a single registration.
Click on the button below to pay securely using PayPal. When the payment is finalized, you will receive your registration key within 24 hours.
Documentation
The full product documentation is available here. It describes all the EasyFMC features in details. Don't hesitate to read it for comprehensive information about the product.
It is also available in PDF format here.
In order to understand all the EasyFMC features, uou may also have to read the EasyFMC documentation here, available in PDF here.